The Power of Collaboration in Business
Aug 15, 2023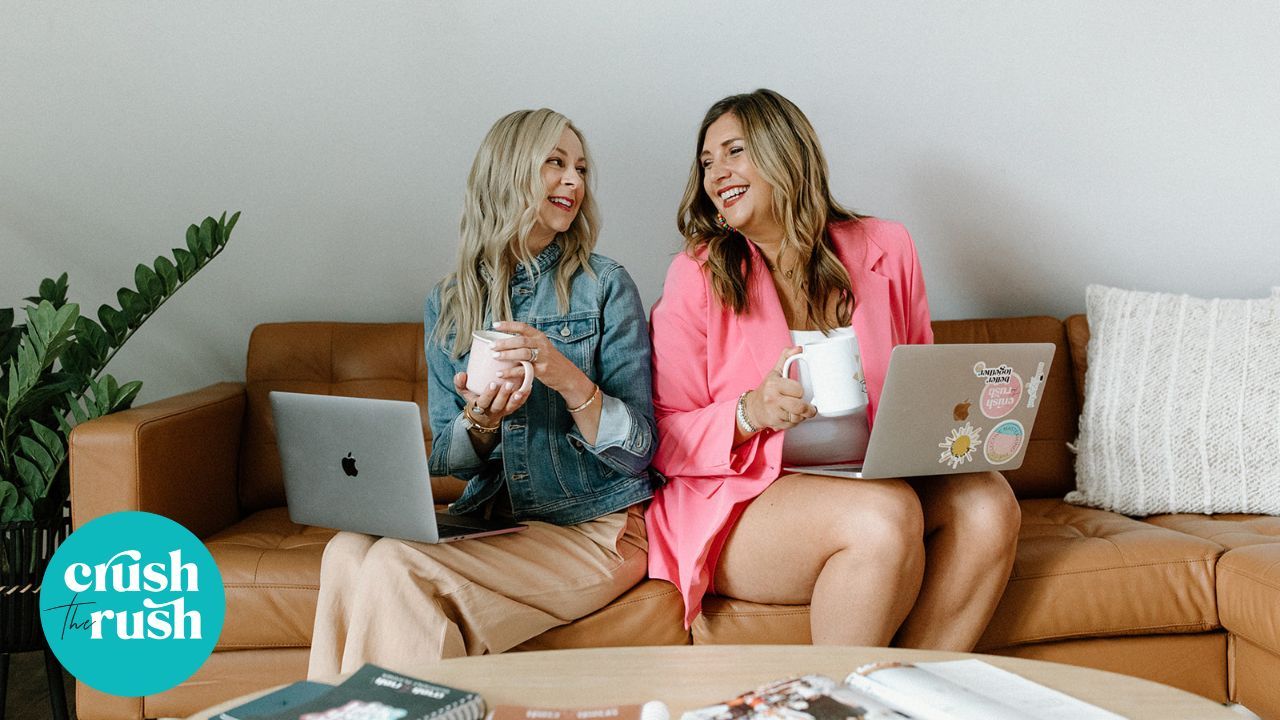 I am so darn excited to officially announce our brand new series,
Crush the Rush Collaborations.
But in true Crush the Rush fashion, I am going to share with you
why we created it and what you can expect to learn from it.
First things first, it all started with Ed Sheeran. This summer we were on a mission to really have some experiences as a family. A year ago I bought Ed Sheeran tickets in Pittsburgh for the girls' first concert. I am an Ed Superfan and as we were getting ready for the concert after a year-long wait (seriously concerts these days), I was going through all his albums. (ps. if you haven't watched his documentary on Disney + it is amazing - talk about some work ethic).
Anyways, all of his albums have a theme, which I love, but one of his albums is different. It's called "Collaborations" and he broke his themed cycle to change things up and work with amazing artists to do just that.
Collaborate.
Which got me thinking, I could do that. Obviously, I am not singing, thank the lord, but our
podcast
does pretty well and you all seem to like it. What if we changed the game and introduced a brand new podcast where collaboration was the key?
It is what I teach as a business strategist for female entrepreneurs (insert build a full-time business on a
part-time schedule
off social by networking, aka collaborating) and throughout the years of my business, I have met so many amazing leaders and strategists and change makers.
So let's highlight that.
How I Did it Differently
As I was thinking through this, I kept thinking I wanted to make it different. I have seen some of this happen recently (the collaboration part) through online summits, but if I am being honest, I think the market on that is saturated. And in my current season of life, maybe you can relate, I do not have 17 hours to watch Zoom workshops and download 100 freebies. So I kept thinking, How can I do this differently?
Inside the
Crush the Rush Collaborations Podcast
(which we are tentatively doing twice a year), we structured it to be 10 private podcast episodes, that you get access to forever. So you can come back and listen and learn. All you have to do is download the link and go. It's free, no upsells, downsells, VIP packages, nada.
The goal: pure value.
The Topic For This Season
The second thing we did was create all the episodes around one topic. This season: How do you break through to your next level? 10 expert guests go behind the scenes on how to protect your energy and time, increase profit and make a bigger impact.
With each guest we hand-curated a special gift resource to compliment each episode and to help you at the level of business you are at so you can take action today and crush the rest of the year including:
✔ Planning 30 days of content in 30 minutes
✔ A custom journal and money mindset plan to help you create your dream salary
✔ A complete audio series on how to scale without constraint
✔ An Asana template to take control of your team and schedule (color-coded and branded of course!)
✔ The Canva creative toolkit to help you scale faster and save time
✔ A customized playbook to become a focused visionary in your business
✔ A full workshop on how to better manage your time and energy
✔ The exact steps to take to crush the rest of the year! (I'm teaching this live!)
✔ A mini-series on how to build a healthier and stronger team
✔ 7 ways to better understand your pricing. (Charge more work less!)
Talk about value right?
I am telling you this is like nothing I have ever created before. PDF's and workshops are great, but we think it's even better to give you short, actionable audio clips that allow you to take action right away. 🎙 Just go to
www.hollymariehaynes.com/collab
.
That's not all. In this blog post, I wanted to share more of the WHY on why we created this. The strategy behind it. Here it is.
The Why Behind This Project
There are two distinct problems that 99% of small business owners and coaches experience:
They don't know how to consistently get clients
They spend all of their "marketing efforts" halfsie-launching things or getting their projects 90% of the way to viability without really asking for the sale at the end.
…How do I know this?
Well, when I started my business, I had these exact problems myself. How do you fix it? Insert what I have been sharing with my clients this summer.
1) You have to work on client attraction every single day. This is NOT sending an email, this is getting new eyes on your content.
2) You have to understand sales. Sales is sending an email, following up, and working with your current clients. So often we think they are the same, but they are two different activities. In our case, this private podcast is our client attraction strategy and our email is our sales strategy. You can very clearly see the difference.
You have to work to get new eyes on your content otherwise, you are constantly pitching the SAME thing to the SAME person over and over and over again.
It is that simple. Every single quarter we put together a client attraction strategy to help get our content more visible. Make that your priority. Most of the time it is not your launch, it is your audience.
If you are A VISIONARY WITH BIG DREAMS and are craving the secrets to scaling your dream venture without compromising your energy and time? Look no further.
DON'T MISS THIS INCREDIBLE OPPORTUNITY TO LEARN FROM THE BEST IN THE INDUSTRY.
Are you ready to unlock the secrets to scaling your dream business while maintaining your energy, time, and impact?
Looking for more on this topic and your High-Level Action items? Check out the Strategy Lab in the Crush the Rush Club!
Resources